In today's dynamic business landscape, transforming a promising concept into a lucrative enterprise often necessitates financial backing. Whether you're a startup founder or an experienced entrepreneur seeking expansion, acquiring funding is a pivotal step. An effective approach to attracting potential investors and spotlighting the promise of your endeavor is to craft a compelling fund deck. A fund deck, frequently presented in PowerPoint format, serves as a visual and informative tool that outlines your capital-raising opportunity. In this article, we'll guide you through the process of getting funding and creating a persuasive fund deck.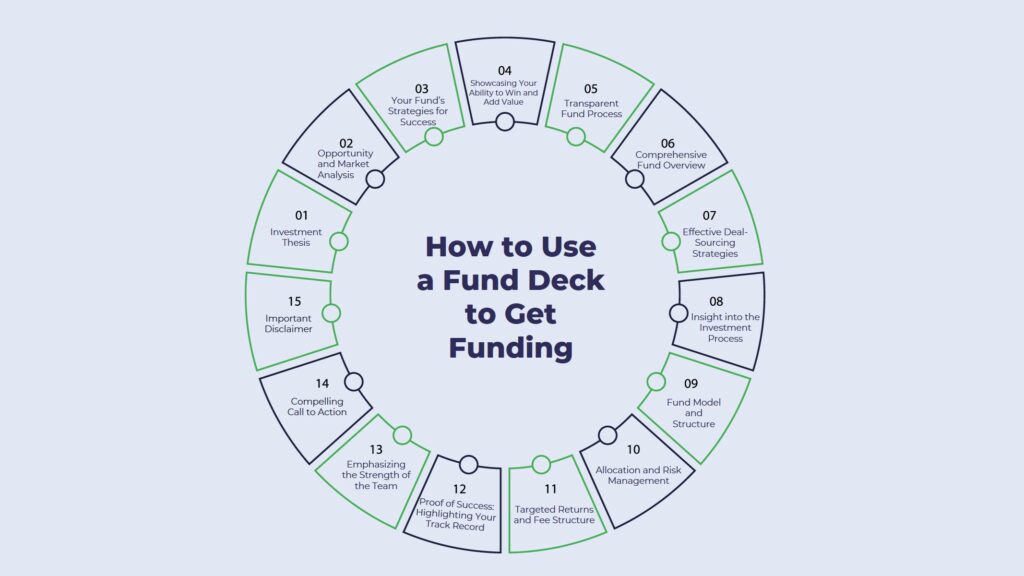 Understanding the Investment Thesis
The investment thesis is central to your fund deck—the core reason your enterprise is worthy of investment. In this segment, you'll elucidate your project's distinctive value proposition and explain how it addresses a specific market demand.
Ready to turn your groundbreaking idea into a thriving reality? 
Let Easy Capraise be your guide on the journey from concept to capital. Discover the art of crafting a captivating fund deck that speaks volumes to potential investors. Elevate your approach, build credibility, and secure the funding your investment strategy deserves. Join us in transforming your vision into a success story. Start your capital-raising journey with Easy Capraise today!
Opportunity and Market Analysis
Dive deep into your target market's potential, trends, and growth opportunities. Use data and insights to demonstrate the appeal of your investment proposition. Highlight the market size, growth projections, and competitive landscape.
Your Fund's Strategies for Success
Outline the strategies that will drive your fund's success. This could include your marketing approach, innovation strategies, and scalability plans. Clearly show how you intend to maximize returns within the investment landscape.
Showcasing Your Ability to Win and Add Value
Investors want to know what sets your fund apart. Showcase your unique value proposition and how your investment approach adds value. Address potential challenges and explain how your team's expertise will navigate those challenges.
Transparent Fund Process
Offer transparency regarding how the raised fund will operate. Explain how investors acquire funding to be used, managed, and distributed. Highlight your commitment to ethical practices and risk management.
Comprehensive Fund Overview
Provide an overview of your business model and how it aligns with investor goals. Clearly explain the fund's purpose, investment horizon, and intended impact.
Effective Deal-Sourcing Strategies
Detail your approach to sourcing investment opportunities. Whether through partnerships, industry connections, or proprietary methods, demonstrate your ability to identify and secure valuable deals.
Insight into the Investment Process
Walk investors through the steps involved in making an investment. Make the process simple and understandable, from initial contact to due diligence and final decision.
Fund Model and Structure
Explain the fund's organizational structure and investment model. Clarify how investors will participate, and highlight any co-investment or co-governance aspects.
Allocation and Risk Management
Address how capital will be allocated across investments and industries. Discuss your strategy for managing risks and optimizing returns.
Targeted Returns and Fee Structure
Be transparent about the returns you're aiming to achieve and the fees associated with investing in your fund. Investors appreciate clarity regarding potential gains and costs.
Proof of Success: Highlighting Your Track Record
Present your track record and performance history. Showcase successful deals or projects that validate your expertise and demonstrate your ability to deliver results.
Emphasizing the Strength of the Team
Introduce the key members of your team and their relevant experience. Highlight how their skills contribute to the venture's success.
Closing: Compelling Call to Action
As you conclude your fund deck, issue a strong call to action. Encourage potential investors to take the next step, whether it's scheduling a meeting or requesting additional information.
Important Disclaimer
Please note that all the information provided in the fund deck is for informational purposes only. Investing involves risks, and past performance is not indicative of future results. Make sure to conduct your own due diligence before making any investment decisions.
FAQs
What is a fund deck, and why is it crucial for startups to get funding?
A fund deck is a presentation that outlines your investment opportunity. It's crucial because it succinctly presents your venture's potential to attract potential investors.
How do I create an effective investment thesis to get funding?
An effective investment thesis clearly articulates your venture's unique value proposition and how it addresses a market need or problem.
What should I include in the market analysis section?
Include insights into market trends, growth potential, the competitive landscape, and your understanding of your target audience.
Why is transparency important to get funding?
Transparency builds investor trust by demonstrating ethical practices and effective risk management in fund operations.
What should investors consider before acting on a fund deck's information?
Investors should conduct thorough due diligence, assess risk, and ensure the investment aligns with their financial models and risk tolerance.
Conclusion
The art of crafting a compelling fund deck involves strategic storytelling and meticulous planning. You're poised to create a noteworthy fund deck by adopting the steps detailed in this guide. One that resonates with investors captures their interest, and it opens doors to the funding needed for your endeavor's flourishing success.