TAM vs. SAM: What's the difference?
Total market demand refers to a product's or service's total revenue. SAM, or serviceable addressable market, is another term you could hear. SAM refers to the portion of the TAM targeted by your products and services that is located within a certain area, such as a geographical reign.
Do it bottom-up, not top-down!
The most common mistake made while estimating TAM is using a top-down approach. For example, some start-ups may first argue about how the big market is out there and that attracting just 1% of it would be enormous.
To estimate the right TAM for your business, you need to calculate it by a bottom-up approach. First, you need to find the specific target market for your products or services and how much you will charge your customers for your products.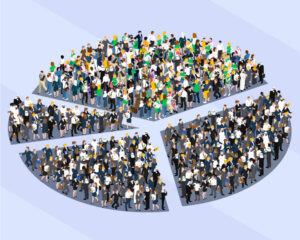 How to calculate TAM
Number of customers * your product or services price
Although it appears simple, it takes some fundamental knowledge about your customer and the price. We need to identify the precise customer, such as their location or attributes. The pricing is also a concern. If the company had some traction, finding the pricing would be simple, but if the products hadn't yet gone on sale, it would necessitate some exact estimation.
It is evident that if one of those items (the number of customers and the price) is not estimated or calculated accurately for TAM, it would be unrealistic.
To support your company's TAM, it's a good idea to document your estimates and illustrate how you determine the number of customers and price your products or services. Your TAM appears more feasible to investors by providing techniques and calculating processes.
An Example
We can make that clear by going through an example. Assume that we want to calculate the TAM for a dating app company. First, we need to find the number of customers for the dating app by answering some questions like, who are going to use this dating app? What is the reign of those people? What is the age range of the potential users? What kind of problems are they seeking to solve by using the app? By these questions, we can drill down the market to our specific target market.
The second thing is about the price. We can also find it by some questions like, how much will we charge each user? Is this price for an annual or monthly subscription? Or what is the willingness of the customers for paying dating apps? Remember that we try to find the price we plan to charge, not the competitors' fee.
Sum up
the TAM is not a top-down approach, and it is not the size of the problem nor the size of the market. It is the number of your target customers multiple by the price of your products or services that you plan to earn from the customers.