In today's rapidly evolving business landscape, finding innovative ways to raise capital has become essential for startups, small businesses, and even established companies looking to expand or fund new projects. While traditional fundraising sources like bank loans and venture capital still have their place, exploring alternative avenues can provide unique advantages and opportunities. In this article, we'll explore some creative and effective strategies for raising capital that go beyond conventional methods.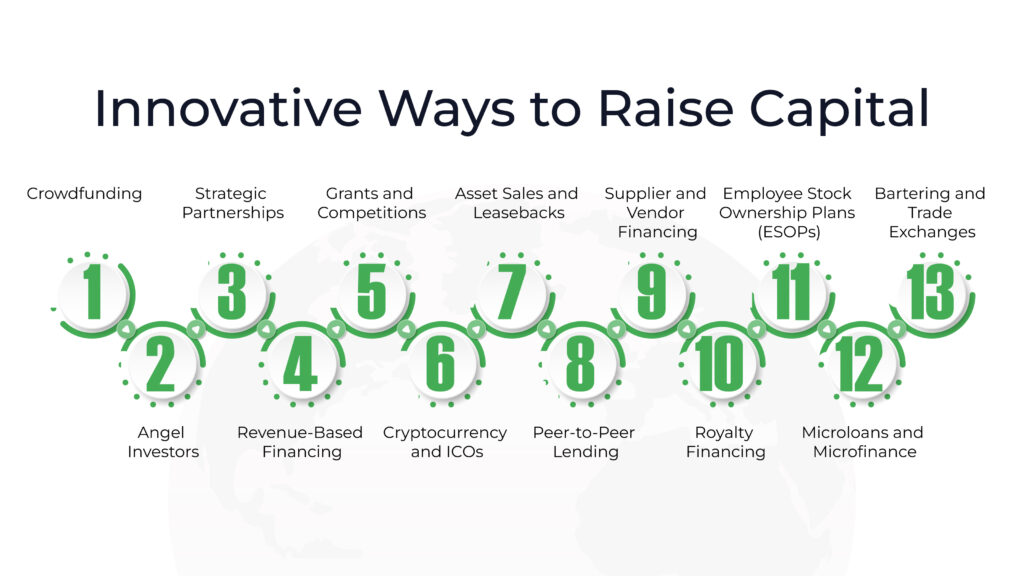 Crowdfunding: Tapping into the Power of the Masses
Crowdfunding platforms have revolutionized the way startups and creative projects raise capital. By presenting your idea to a global audience, you can attract individual contributions in exchange for early access, products, or other incentives. This method not only provides funds but also gauges market interest.
Angel Investors: Bringing Expertise Along with Capital
Angel investors are affluent individuals who invest their personal funds in promising ventures. Beyond financial support, they often provide mentorship, networking opportunities, and industry insights, making them a valuable startup community.
Unlock Your Business's Potential with Easy Capraise: Let us Connect You with the Perfect Investors! Take the First Step Toward Success Today.
Strategic Partnerships: Sharing Resources and Risks
Teaming up with established companies can offer a win-win situation. Partnerships can provide access to capital, distribution networks, and complementary expertise, allowing both parties to achieve more together than they could independently.
Revenue-Based Financing: Aligning Growth with Capital
Instead of traditional interest payments, revenue-based financing involves sharing a percentage of future revenues with investors. This approach can provide more flexibility during periods of lower revenue and is particularly attractive to businesses with strong growth potential.
Grants and Competitions: Funding through Innovation
Many organizations offer grants and competitions to fund innovative ideas. These awards not only provide capital but also validate your concept, making it easier to attract further investment.
Cryptocurrency and ICOs: The Digital Frontier of Capital
Cryptocurrencies and Initial Coin Offerings (ICOs) have emerged as a futuristic way to raise capital. ICOs involve issuing digital tokens in exchange for cryptocurrency investments, providing a decentralized funding model.
If your business owns valuable assets, you can sell them and lease them back. This injects capital while allowing you to continue using the assets, a strategy commonly used for real estate and equipment.
Peer-to-Peer Lending: Borrowing from Individuals
Peer-to-peer lending platforms connect borrowers with individual lenders. This approach can offer better terms than traditional banks and is particularly suitable for smaller loan amounts.
Supplier and Vendor Financing: Extending Payables
Negotiating longer payment terms with suppliers and vendors can free up capital for other purposes. This approach requires strong relationships and trust within your business network.
Royalty Financing: Capitalizing on Intellectual Property
If your business owns valuable intellectual property, you can sell rights or receive royalties in exchange for capital. This approach is particularly useful for technology-driven companies.
Employee Stock Ownership Plans (ESOPs): Engaging the Workforce
ESOPs allow employees to become partial owners of the company. This not only raises capital but also fosters a sense of ownership and motivation among the workforce.
Microloans and Microfinance: Empowering Small Entrepreneurs
Microfinance institutions provide small loans to entrepreneurs in underserved communities. These loans empower individuals to start and grow businesses that have a positive impact on their local economies.
Bartering and Trade Exchanges: Capital without Cash
Bartering involves exchanging goods or services for other goods or services, eliminating the need for immediate capital. Trade exchanges facilitate these transactions on a larger scale.
FAQs
How do I choose the right funding option for my business?
Consider your business's stage, goals, and risk tolerance. Evaluate the pros and cons of each method and align them with your needs.
Are these alternative methods suitable for startups?
Absolutely. Many of these methods are particularly well-suited for startups looking to secure capital without giving up substantial equity.
What are the potential risks associated with unconventional funding?
Risks vary with each method, from regulatory challenges to dilution of ownership. Thoroughly research and consult experts before making a decision.
Can I combine multiple funding sources?
Yes, hybrid approaches are common. Combining methods can diversify your funding base and provide more resources.
Is it necessary to give up equity when using these methods?
Not always. Many alternative methods allow you to raise capital without sacrificing equity, which can be particularly appealing to founders.
How can I raise capital for my business?
To raise capital for a business, consider diverse funding options like traditional loans, venture capital, angel investors, crowdfunding, grants, and strategic partnerships. Tailor your approach based on your business stage, goals, and financial needs.
Conclusion
Innovation has transformed the way businesses raise capital, offering a diverse range of options beyond traditional funding methods. By understanding the unique advantages each approach brings, entrepreneurs can tailor their fundraising strategies to their specific needs and goals. Whether it's through crowdfunding, strategic partnerships, or unconventional financing models, the path to capital has never been more dynamic.